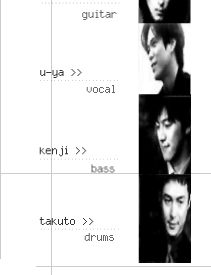 K i m i . g a . i t a k a r a
By the time you read this, the FIELD OF VIEW is already a memory. (Hiks)
Yeah, they've disbanded. And I can't even see their last live show! (May, gomen ne. I can't keep my promise...)
Though it hurts sometimes to maintain this site, but tFOV had brought colorful moments to me this one and a half year, so... I'll keep it running.

D e a r . o l d . d a y s
09.1994: with the label view, Takashi Oda (guitar), U-ya Asaoka (vocal), Jun Abe (keyboard), and Takuto Kohashi (drums), banded and released Ano toki no naka de bokura wa.
05.1995: a debut single Kimi ga itakara under the flag FIELD OF VIEW.
03.1996: 4th single DANDAN Kokoro Hikareteku released with only 3 of member, after the leaving of Abe.
05.1996: 5th single DOKI, first single for the new member Kenji Niitsu (bass).
05.2001: As the 18th single released, the name was changed into the FIELD OF VIEW.

. This site is a memorial site of tFOV; from fans for fans, no intention of intriguing any copyrights
. Started on 06.25.2001
. v5.0 released on 12.2002
. Last updated on 03.11.2003
. Japanese Text Support required for some pages


OFFICIAL SITE:
http://www.being.co.jp/fov
http://www.uyax.com/

Dear All, thank you for visiting this page
Since it's no longer active, in case you want to contact me or just say hi as a FOV fan, please go to my blogs:
Project i-LaMB
or
Living Daisy
The name is kept until...

K i t t o . h a n a r e t e i t e . m o
07.2002: tFOV declared their dispersion, with the 20th single Melody as the last melody of theirs.
11.2002: the last live show held in Osaka and Tokyo.

I'm . thinking . a . lot . of . you
>> P R O F I L E
>> DISCOGRAPHY plus!



S h i n k i r o u . E v e r y n i g h t . e v e r y d a y
Even though tFOV is now only exist in our memory, letting the memory be a colorful memory is not a crime. (Oh, what am I trying to say?) Well, here are the places to bring tFOV close to you.
>> SONG: SAMPLE AND DOWNLOAD
>> PRIVATE GALLERY

D r e a m s . mitsuzukete . ima . mo
>> ACT BOOK
>> ART BOOK

I . W a n t... M o u . i c h i d o u
>> L I N K
>> W E B R I N G

PROMISE YOU . A s h i t a . n o . t a m e n i
And so this site will no longer stand alone. After a farewell, one has to move on, don't you think? Another band? Oh, no! Though yes I have become a little more rockie recently - you know, Laruku's tone - and sometimes that makes me wanna make at least one page of Laruku. But I can't bear any more losing. So...? Let's back to basic, back to where all this love for FOV (and other bands) came from... which is...

. Song title remix: Kimi ga itakara, Dear Old Days, Kitto hanareteite mo, I'm thinking a lot of you, Shinkirou, Dakishimetai ~ everynight everyday, Dreams, Yume mitsuzukete ima mo, I Want..., Mou ichidou, PROMISE YOU, Ashita no tameni
. All songs performed by (the) FIELD OF VIEW